North Dakota
JOHNSON - PEDERSEN

L


k i n g For Scandanavian Relatives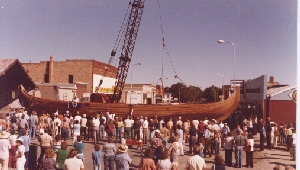 This is a picture of the Hjemkomst, a 76 foot viking sailing ship hand built by Robert Asp, a teacher from Moorhead, Minnesota. He dreamt of building this ship and sailing it to Bergen, Norway where his ancestors emmigrated from. Although he died before realizing his dream, his children crewed the ship on it's 6000 mile journey from Duluth, MN to Bergen Norway. The above photo was taken by my grandfather who resided in the town of Hawley, MN where the Hjemkomst was built. For more pics of the Hjemkomst voyage see Artcom Museum Tour: Heritage Hjemkomst Interpretive Center. For more info on the museum it is housed at in Moorhead, MN see Heritage Hjemkomst Interpretive Center.

---
Hi Everybody! I recently began my quest for finding my Scandanavian relatives and am beginning to realize some of the obstacles I face. I am looking for anyone who may be related to the follwoing people - ( click on name to see descendant tree or see the surname list below )
My great-grandfather Swan JOHNSON

Came to U.S. in 1883 from Halmstad area of Sweden.

My great-grandfather Herman Schroder PEDERSEN

Know he came from Norland Province of Norway and was married in the Tjotta parish. Came to U.S. in 1882.

My great-grandfather Arne BERG

Last name may have been OLSEN or ANDERSEN in Norway.
---
Favorite/Useful Links
Check out my database of family names from Germany, Russia, Norway and Sweden.
The Odessa...a German-Russian Genealogical Library. Articles, Land Records, Cemetery Records, Census Records, Church Records, Immigration, Migration, Naturalization, and Ship Records, Village Histories and more.
Having difficulty reading those old documents? Visit this page for some help!
State and County maps of the U.S. in color or B/W along with Satellite images, 1895 maps.
A great site to have genealogical photos/documents enhanced and reproduced.
Convert your GED files to HTML. Program has many options, uses fewer script pages and best of all......IT'S FREE! To view results of the conversion, see the Johnson - Pedersen surname list above.
A great place to learn how to create your own web page. Even if you have no experience in HTML there are online tutorials in simple, easy to understand language plus hundreds of images, buttons, arrows, icons and much more. Why don't I use or endorse Tripod's HTML area? Goodies is where I learned before I enrolled with Tripod!
Genealogy resources for Sweden and Norway that I have found useful. By no means an extensive list but more of useful and informative links.
---

This page has been visited

times.

Last Updated - 11/27/05
---

---
Roger Johnson