Looking For Scandanavian Relatives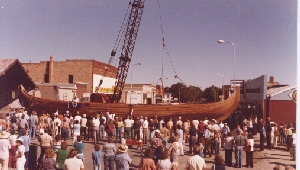 This is a picture of the Hjemkomst, a 76 foot viking sailing ship hand built by Robert Asp, a teacher from Moorhead, Minnesota. He dreamt of building this ship and sailing it to Bergen, Norway where his ancestors emmigrated from. Although he died before realizing his dream, his children crewed the ship on it's 6000 mile journey from Duluth, MN to Bergen Norway. The above photo was taken by my grandfather who resided in the town of Hawley, MN where the Hjemkomst was built. For more pics of the Hjemkomst voyage see Artcom Museum Tour: Heritage Hjemkomst Interpretive Center. For more info on the museum it is housed at in Moorhead, MN see Heritage Hjemkomst Interpretive Center.

---
Hi Everybody! I am searching for "long lost" relatives that may have some information concerning my ancestory. I just recently began my quest for finding my Scandanavian relatives and am beginning to realize some of the obstacles I face. I know very little about them except that my great grandfather Swan JOHNSON came from Halmstad, Sweden. I was told that my great grandfather PEDERSEN and BERG came from the same place in Norway, presumably Bergen. But I recently found a marriage record at the FHC that indicates Herman Schroder PEDERSEN was married in Tjotta, Norland, Norway. I would like to contact anyone who may have further information that would be of any assistance!
---
My Favorite Links
I plan on posting a surname list of the people I am searching for in the near future. Until then visit some of my favorite places.

Check out my database of family names from Germany, Russia, Norway and Sweden.
A great site to have genealogical photos/documents enhanced and reproduced.
---

This page has been visited

times.


Last Updated - 2/22/98
---
Roger Johnson
raj49@usa.net.com
Phoenix, AZ
United States